California Bets On Sports With Proposed Constitutional Amendment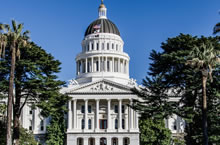 The most populous state in the world has become the latest to enter the race for legalized sports betting. California has been discussing legislation that would allow residents to bet on sports legally.
How California Plans To Legalize Sports Betting
On Thursday, Assembly member Adam C. Gray announced a proposed constitutional amendment (ACA 18) that would allow legal sports betting in California. Passing an amendment rather than writing an entirely new law is similar to the approach taken by South Carolina.
The ACA 18 amendment will only go into effect should the federal sports betting ban be lifted. Furthermore, the proposed legislation must get two-thirds approval from the California Legislature in order to be put to a statewide voter referendum.
California seems to have an unfavorable relationship with gaming legislation, with the state remaining undecided on the issue of online poker for close to ten years. Still, Assemblyman Gray feels as though the topic of sports betting comes from a level playing field where all parties will benefit equally. The main goal is to regulate how residents bet on sports, which is an issue that impacts all gaming stakeholders.
"Whether we like it or not, Californians are already betting on sports through illegal and often unscrupulous websites in foreign countries," said Gray. "It is time to bring this multi-billion dollar industry out of the shadows.
"All other gaming activities in California are subject to regulations that ensure the safety of consumers. Sports wagering should be treated no differently."
Betting On The NJ Supreme Court Case
California is now the 7th state to introduce sports betting legislation contingent upon the outcome of the New Jersey sports betting case. Upon N.J. entering the sixth year of their ongoing legal battle to bring legal sports betting within its borders, the state was able to get their request for certiorari granted by the U.S. Supreme Court.
Getting the approval was a major feat in itself, as data shows that only 2% of all petitions for certiorari are granted by SCOTUS. The odds were also against New Jersey as the Acting U.S. Solicitor General Jeffery Wall filed a brief in May recommending that the Court not hear the case.
With New Jersey clearing the hurdle of getting the case to the Supreme Court, states like California are hedging their bets and being proactive.
"I am pleased to see the US Supreme Court has shouldered the burden of bringing legal clarity to the issue of sports wagering and the rights of states under the United States Constitution," stated Gray.
Potential Impact Of Legal Sports Betting In California
According to research provided by the American Gaming Association (AGA), Americans illegally wager more than $150 billion on US sports each year. 41% of Super Bowl viewers- about 47 million people- have contributed to the $14 billion dollars that are bet illegally on the big game each year.
To put this in perspective, California has a population of more than 39.25 million people. If sports betting were to become legal, it would likely be the largest sports betting market in the USA. California currently has 71 tribal casinos and 10 horse-racing tracks, with the majority of operators likely being proponents of sports betting. Regulating the multi-billion dollar California sports betting industry would generate new tax revenues, create jobs, and employ additional consumer protections.
Best California Sports Betting Sites - 100% Trusted + Safe
| | | | | |
| --- | --- | --- | --- | --- |
| | | 50% Up To $250 | VISA + Wire Transfer | |
| | | 50% Up To $1,000 | VISA, Bitcoin, Cash Wire | |
| | | 50% New Member Bonus! | VISA, Bitcoin | |
| | | 100% Up To $300 | VISA, Bitcoin | |
| | | 50% Up To $1,000 | Bitcoin, Wire Xfer, VISA | |