California Sports Betting Bill Tracker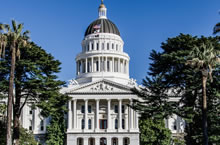 While there isn't always action happening on the legislative calendar, the California sports betting bill tracker will keep you up to date on all of the newest details. As the largest state in the nation with nearly 40 million people, California sports betting would have a major economic impact as there are more than 39.5 million people in California. The state already generates more than $11 billion from tribal casinos, card rooms, horse racing betting, lottery, and charitable gambling sales. Sports betting would represent an entirely new revenue stream to help with California's debt.
With the decision in Murphy vs. NCAA removing the widespread ban on sports gambling, California now has the option to regulate their own sports betting market. Lawmakers in the state have yet to pass any bill relating to the expansion of legal sports betting. Indian gaming is the most pertinent issue, with many tribes in the state wanting exclusive rights to offer the industry. Others want to avoid gambling expansion altogether. The state also has card rooms, which have disputed their ability to allow certain games well before sports gambling became a consideration.
Making legal California sports betting a reality will not happen overnight, as officials in the state address regulatory conflicts. The conversation will continue to progress as lawmakers introduce additional sports gambling bills. Take a look at the bills that have been introduced and their status below:
Sponsor: Adam Gray (D - Merced)
Summary: The measure would permit the Legislature to legalize sports betting should a change in federal law allow sports wagering in the state. The bill proposes an amendment to the Constitution of the State.
Excerpt: Sec. 19(h) "Notwithstanding subdivisions (a) and (e), if the federal Professional and Amateur Sports Protection Act (28 U.S.C. Sec. 3701, et seq.) is amended or repealed to allow sports wagering in California, the Legislature may authorize sports wagering."
Actions:
11/30/18

– From committee without further action.

05/31/18

- Referred to Coms. on G.O. and APPR.

07/21/17

- May be heard in committee August 20.

07/20/17

- Read the first time.
California Sports Betting FAQ's
Will I Be Able To Bet On Sports At Cardrooms In California?
The answer is unclear as there has been an ongoing dispute between American Indian casinos and card rooms in California. In the past, tribes have said that they would attempt to veto any legislation that would permit card rooms to offer legal California sports betting. At this point, it is too early to know if residents will be able to wager on sports at card rooms.
Will Indian Casinos In California Offer Sports Betting?
California casino tribes have been hesitant to support sports betting legislation in the state. Many of these tribes have entered into compacts where they have exclusive rights to casino-style gambling. There is language that specifically prohibits certain types of gambling expansion. Tribes are concerned that allowing sports betting statewide would violate their agreements. State-tribal compacts would first need to be renegotiated before moving forward. It is impossible to know which direction tribal governments will go, but so far it seems that Indian operators will be first in line to offer sports betting in California.
What Is The Legal Sports Betting Age In CA?
The legal California sports betting age would either be 18 or 21 years old depending on regulations set forth by the gaming commission. Casinos in the state have an 18-year-old minimum and this would not go any lower if land-based sportsbooks are introduced in the state. Without any laws on the book, we can not provide a sports betting age but definitely do not gamble if you are under 18.
Can I Still Use Offshore Betting Sites?
Yes, even without any laws supporting an in-state regulated industry, there is nothing preventing you from using offshore operators. They have been providing their services to California residents for years and have proven their reliability and trustworthiness. Just because they are not regulated by the state or the United States does not mean they are unsafe, as they must follow regulations set forth by their home country.
Back to SportsBettingCalifornia.com
Best California Sports Betting Sites - 100% Trusted + Safe
| | | | | |
| --- | --- | --- | --- | --- |
| | | 50% Up To $250 | VISA + Wire Transfer | |
| | | 50% Up To $1,000 | VISA, Bitcoin, Cash Wire | |
| | | 50% New Member Bonus! | VISA, Bitcoin | |
| | | 100% Up To $300 | VISA, Bitcoin | |
| | | 50% Up To $1,000 | Bitcoin, Wire Xfer, VISA | |