Legal California Triple Crown Betting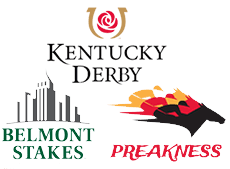 California is one of the few places in the US that really supports and encourages the pastime of Thoroughbred horse racing and legal California Triple Crown betting only adds to the excitement. With a number of tracks and simulcast betting facilities throughout the state, bettors are given plenty of options from land-based venues as well as online at various Internet racebooks. This makes it easier and more convenient than ever for CA residents to enjoy the Sport of Kings.
Triple Crown winners are extremely rare, with only 13 such champions over the last 99 years. Somewhat surprisingly, no California-born horse has ever won all three legs of the circuit: the Kentucky Derby, Preakness Stakes, and Belmont Stakes. However, in the 100th anniversary since the first Triple Crown winner, maybe a California horse can take this crown this year.
In fact, only four horses born in California have ever won the Kentucky Derby, which is the Triple Crown's first leg. These include Morvich (1922), Swaps (1955), Decidedly (1962), and California Chrome (2014). California Chrome also won the second leg of the Triple Crown when he took the Preakness Stakes, but he ultimately lost the final leg – the Belmont Stakes – after finishing tied for fourth (on an injured hoof). Still, native winners or not, legal California Triple Crown betting still turns a huge handle every time, and this year is no exception.
Best Racebooks For Legal California Triple Crown Betting
Some of the best horse race betting in California can be found right in the comfort of your own home with online racebooks. With books such as Bovada or BetOnline you can easily sign up and bet on the Triple Crown from anywhere you are. Each has an excellent reputation for comprehensive Triple Crown odds menus, hassle-free deposits, prompt payouts, and top-notch customer service. Plus, since you can sign up at several, you're even able to shop around for the best potential payouts for all your Triple Crown betting exploits at California online sports betting sites.
Bovada - Triple Crown Betting for Californians

Bovada is California's premier racebook, and given that they've been around for years and serve literally millions of CA residents, it's little wonder why. Add to that the fact that they've never missed a horse racing payout, and legal California Triple Crown betting at Bovada is an open gate and a fast lane to premium pony wagering. New California members can even add Bovada's $250 Sports Welcome Bonus to their Triple Crown bankroll.
BetOnline - California Triple Crown Betting

Legal California Triple Crown betting at BetOnline offers CA residents the most deposit and withdrawal options of any major sportsbook, so no matter your finances, you can freely sign up and bet on the ponies. Joining is always free, and BetOnline's simple, straightforward mobile site makes it easier than ever to get in on all of this year's Triple Crown action. New CA resident members are eligible to receive a no-limit 7% cash-back promotion on BetOnline's racebook, and they can also take advantage of a $25 Horse Free Play to get their hooves wet.
Best California Racebooks - 100% Trusted + Safe
| | | | | |
| --- | --- | --- | --- | --- |
| | | 50% Up To $250 | VISA + Wire Transfer | |
| | | 50% Up To $1,000 | VISA, Bitcoin, Cash Wire | |
| | | 50% New Member Bonus! | VISA, Bitcoin | |
| | | 100% Up To $300 | VISA, Bitcoin | |
| | | 50% Up To $1,000 | Bitcoin, Wire Xfer, VISA | |
Triple Crown Wager Types
When betting on the different Triple Crown races you have tons of different betting options to pick and choose from that aren't just the odds on the winner of the race. You can bet on the order that horses finish in or even which horses will come in the top three. Right here you can find all of the different betting types on Triple Crown race.
Exacta: Betting on exacta odds in horse racing is simple. Here you are betting on which two horses will come in first and second place. They must finish in the exact order bet in to win the bet.
Trifecta: With these odds you are betting on the outcome of the top three horses in the race in that correct order.
Superfecta: These odds are on the exact order of the first four horses to finish the race.
Quadrella: Rather than betting on the outcome of the horses in a single race, with quadrella odds you are picking the winners of multiple races. More specifically races 5-8 of the racing events.
Current 2023 Kentucky Derby Odds
The first race of the three Triple Crown races will, the Kentucky Derby is coming up on May 7 and odds for it are up. Corniche originally opened up as the favorite until Smile Happy took over the shortest odds at +900. Not only did Smile Happy take over the shortest odds, but Messier jumped Corniche for the second shortest odds leaving Corniche tied with Chasing time for the third shortest. The odds are sure to shift as the Derby inches closer meaning now is the time to get in before they shift again.
Smile Happy +900
Messier +1100
Corniche +1200
Epicenter +1200
Chasing Time +1400
Classic Causeway +1600
Emmanuel +1600
Mo Donegal +1800
Charge It +2000
Newgrange +2000
Fastest Legal California Triple Crown Betting Deposits
When it comes to putting money into your racebook or sportsbook of choice, the method you use depends entirely on the timeframe required to place your bets. If you need to wager ASAP, the fastest legal deposits method for Triple Crown betting will be via credit or debit card, which transfers immediately but has relatively small limits.
If you're a high roller, you'll need to utilize your book's bank wire transfer, money order, or personal check options. These have much higher limits, but they can also take up to 14 days to clear and become available for wagering purposes. Bitcoin and other cryptocurrencies are a good option, too, as they feature same-day transfers and comparatively high limits.
Fastest Legal California Triple Crown Betting Payouts
Withdrawals do not have credit or debit chargeback options at most online racebooks and sportsbooks. As such, most CA residents receive their horse racing winnings via courier check, wire transfer, or money order. Again, however, these methods are time-consuming, sometimes taking up to two weeks to show up in your bank account stateside.
The payouts for Triple Crown betting in California are universal via cryptocurrencies. Bitcoin is offered for this purpose at all of the top racebooks, and some – like BetOnline and SportsBetting – even accept Ethereum, Litecoin, and more. With same-day transfers, extremely low fees, and the possibility for massive interest in the crypto marketplace, using these three alternative payment types might just be your own personal Triple Crown.
Other Sporting Events To Wager On In California
Horse Racing Betting California
California Legal MLB Betting Sites
California Legal Masters Betting Sites
Legal California World Cup Betting Sites