LA Rams Second-Ever NFL Team To Transition From Worst To First In Points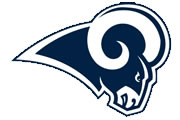 "Man," stated Rams' Rodger Saffold, "that's amazing."
That has been the general reaction of fans when it comes to the news that the LA Rams went from the NFL's lowest scoring team to the NFL's highest scoring team in the span of a year.
The Rams went from averaging 14.0 points per game for a season total of 224 points, to 29.9 points per game for a regular season total of 478 points.
Since the inaugural Super Bowl in 1966, the only other team to accomplish such a feat in one season was a 1965 49ers squad. The 49ers went from averaging 16.9 ppg with 236 total points in 1964, to 30.1 ppg and 421 points the following season. The 2017 Los Angeles Rams started lower and ended up higher in terms of points.
The increased differential could be in part to the 49ers having the same coach both seasons, while the Rams brought in fresh new talent. At 30 years old, Sean McVay joined the Rams organization to become the youngest head coach in NFL history. Now, he has made an additional mark on NFL history books and is the odds-on favorite to win NFL Coach of the Year. McVay has earned the respect of fans, staff, and of course, his players.
"Sean, like any player would say, came in, and he set the expectations and the bar for how this team should be producing," noted Rams left guard Jamon Brown. "It's not a shocker that we stand first in the NFL in scoring."
McVay remains humble when it comes to accepting his role in turning around the once 4-12 Los Angeles Rams. He gives credit to the hard work of players led by a strategic coaching staff.
"I thought our players did a nice job of being able to consistently play pretty well throughout the course of the year; coaches put guys in good positions," McVay said to ESPN. "We talk about points as being one of the most important factors, but for us it's about winning football games and doing those things the right way. Next week is a great challenge, and I know we're excited about that."
SportsBettingCalifornia.com thinks the Wild Card match where the LA Rams host the Atlanta Falcons certainly is do or die, with the Super Bowl LII odds for the Rams hinging on a win at the Coliseum. Bovada has the L.A. Rams pegged as a 6-point favorite over the Falcons, with the team 9-7 ATS this season. The game total is set higher than any other Wild Card match this weekend, coming in at 49 points.
A win in the Wild Card round would propel the Rams to the divisional round, where they could potentially go on to record a postseason scoring record.
Best California Sports Betting Sites - 100% Trusted + Safe
| | | | | |
| --- | --- | --- | --- | --- |
| | | 50% Up To $250 | VISA + Wire Transfer | |
| | | 50% Up To $1,000 | VISA, Bitcoin, Cash Wire | |
| | | 50% New Member Bonus! | VISA, Bitcoin | |
| | | 100% Up To $300 | VISA, Bitcoin | |
| | | 50% Up To $1,000 | Bitcoin, Wire Xfer, VISA | |