Lake Tahoe Sportsbooks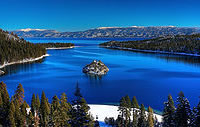 As one of the premier destinations for tourists, thrill seekers and gamblers alike in all of the massive state of California, Lake Tahoe is practically a paradise on earth for most folks looking to have a good time. Because it sits right on the border with Nevada, that also means that Lake Tahoe sportsbooks have long been a staple for the local gambling industry, even during the quarter century or so that the Professional and Amateur Sports Protection Act of 1992 (PASPA) was in place. Simply put, if bettors in the Golden State were not happy with the many fine casinos located in their own borders, they could easily pay a visit to the sportsbooks in Lake Tahoe, which were actually found right across the border in Stateline, NV.
However, the status quo with regard to legalized sports betting may be changing in California, and that change could come sooner than almost anyone expects. The US Supreme Court, in a watershed May 2018 decision, returned a majority vote to overturn PASPA, the federal law that had for more than two decades prevented 46 of 50 states – California included – from legalized, regulating and taxing sports wagering outlets, which basically gave Nevada free rein as the only place were all forms of sports betting were legal anywhere in the country. Now that PASPA's days are behind us, it would seem that the Golden State's lawmakers might be inclined to reexamine their policy of limited legalized gambling to casinos, even giving credit where credit is due in that California is home to some fine casinos that bring millions of visitors to the state every year. However, for the time being, legal Lake Tahoe casinos remains a topic for discussion only, though we are hoping that action is taken to remedy the situation.
With all that being said, our guide to the best sportsbooks in Lake Tahoe – which include such local and international luminaries as the Lakeside Casino, the Hard Rock Lake Tahoe, Harrah's Lake Tahoe and more – would not be complete if we did not extensively extoll the numerous virtues of the legal offshore sportsbooks serving California players. Sites such as Bovada, BetOnline, SportsBetting, BetDSI, and 5Dimes have been filling the niche created by PASPA as the leading legal sportsbooks in Lake Tahoe for years, and have gained a level of popularity and reputability otherwise unheard of in the internet gambling marketplace. Our guide to all the Lake Tahoe sportsbooks worth the consideration of our dedicated readership here at Sports Betting California will discuss all these topics and more, so read on for the full scoop.
Best California Sports Betting Sites - 100% Trusted + Safe
| | | | | |
| --- | --- | --- | --- | --- |
| | | 50% Up To $250 | VISA + Wire Transfer | |
| | | 50% Up To $1,000 | VISA, Bitcoin, Cash Wire | |
| | | 50% New Member Bonus! | VISA, Bitcoin | |
| | | 100% Up To $300 | VISA, Bitcoin | |
| | | 50% Up To $1,000 | Bitcoin, Wire Xfer, VISA | |
Is Sports Betting Currently Legal In Lake Tahoe, CA?
The question of whether or not sports betting in California is currently legal in Lake Tahoe, is a bit more complicated to answer than it would be in other states around the country and even, it must be said, in most other locales in the state of California too. The reason for that somewhat longwinded disclaimer is this: sports betting is not currently a legal gambling activity in the Golden State, but sports betting is legally available for California residents in the vicinity of and visitors to Lake Tahoe. That might sound convoluted, but bear with us while we explain how sportsbooks in Lake Tahoe are, to use the parlance of the times, "literally a thing."
First of all, Lake Tahoe itself, not the town named after it, crosses the state border from California to neighboring Nevada, where darn near every kind of gambling a sensible person can think of is fully legal and has been for years. Secondly, individuals that live in the Lake Tahoe community and visitors there can easily either drive around to the lake's southern shore or simply hop a ride across the lake, whereupon they will find themselves surrounded by casinos large and small, all of which on the Nevada side of the body of water will have sportsbooks. Thirdly, sports betting websites such as Bovada, BetOnline, SportsBetting, BetDSI and 5Dimes that are hosted in foreign countries and are fully licensed and regulated by the gambling control authorities in their home nations. That means that not only would prospective US players not have to worry about betting with less than reputable unauthorized businesses, but these legal operators are not beholden at all to any US federal or state gambling laws.
When one considers all of the above factors, it should be pretty clear that, though sports betting is not necessarily legal in Lake Tahoe at this very moment, the laws that do govern what is and is not a legal gambling activity in the Golden State do not apply in this particular case, which gives those interested in sports betting for California residents a true "best of all worlds" situation to work with. Besides, now that PASPA has been overturned by the US Supreme Court, the possibility exists that the California legislature could look into authorizing sportsbooks at any of its fantastic Native American tribal casinos that are already licensed gaming operators.
There has not been a ton of indications coming our way that this is what the Golden State's lawmakers mean to do in the near term, but in the long run, we do tend to think that is what they will decide to do. There is simply too much to be gained in terms of positive impacts on local economies and vastly increased tax revenues to ignore the prospect of a legalized sports betting market in one of the nation's most populous and economically significant – not to mention cash strapped – states.
Minimum Legal Age To Bet At Lake Tahoe Sportsbooks
Although there are not technically any casinos offering sports betting options in Lake Tahoe, being that sports betting is not yet legal in the state of California, the South Shore of the lake – that being Stateline, Nevada – does have several casinos offering all the sports wagering action you can reasonably be expected to handle. Being that these casino sportsbooks set 21 as the minimum legal age, to bet at Lake Tahoe sportsbooks or the ones that function in that capacity anyway, you will need to be at least 21 years of age before you can legally bet at any of them. California has already set 21 as the minimum age guests at its casinos need to be before they can bet on other things besides sports, so there is that little bit of extra weight to throw behind our assessment of the situation too. In fact, of all the states that have recently legalized sports wagering or are close to doing so in the wake of the US Supreme Court's decision to overturn PASPA, only Rhode Island and Montana has settled on a lower minimum age for legal sports betting – so far – and even then it was still 18 and older, so that is fully within the normal bounds for gambling.
However, we should point out that, in the meantime, all the legal offshore sportsbooks that function as the only Lake Tahoe sportsbooks you can use while in California – those being the websites Bovada, BetOnline, SportsBetting, BetDSI, and 5Dimes – will take wagers from players as young as 18. This is completely in keeping with the restrictions placed on these operators by their gaming control authorities from the nations in which they are based. It is simply a case of the European and Caribbean gaming regulations being a good deal more lax with regard to minimum age needed to engage in gambling legally compared to here in the states. The end result is that California residents that want to place bets on their favorite teams can do so at a younger age than perhaps will eventually be permitted in the Golden State and is already permitted in Nevada, where the physical Lake Tahoe sportsbooks are actually located.
When Will Lake Tahoe Casinos Have Land-Based Sports Betting?
Land-based sports betting is still ways away in California. An Assembly member has introduced a sports betting bill, but the state has not entered into any real discussions about legalizing the industry or setting regulations. The casinos would be the first place to offer sports betting in the state but much change must occur first. After a legislative process to introduce and approve the industry is eventually passed, California will have to choose which stakeholders will get the rights to offer sports betting.
Other Cities With Sportsbooks In California
Best Sportsbooks In Lake Tahoe
This is something of a tough call, and ultimately it will be up to each individual person interested in sports betting for California residents at Lake Tahoe sportsbooks to decide for themselves, but – in our opinion anyway – there are two ways to go as to finding the best sportsbooks in Lake Tahoe. On the one hand, visitors and residents of the Lake Tahoe area can simply make a short drive or hop a quick boat road across the water to the Nevada side of the lake, where there are numerous high-profile casinos with sports betting options as well as some prestigious locals' favorite sportsbooks in Lake Tahoe. On the other hand, there is always the option to stay in California and make use of any of the de facto Lake Tahoe sportsbooks, those being the industry leading operators Bovada, BetOnline, SportsBetting, BetDSI, and 5Dimes.
Regardless of which way you decide to go to get your sports betting fix, you really can't go wrong, as both methods offer plenty of benefits. Whether that is the multiple deposit and withdrawal methods (including Bitcoin and other popular cryptocurrencies) or the free mobile betting apps offered by the legal offshore sportsbook sites, or the atmosphere and excitement activities of being there, live and in person, at one of the Lake Tahoe sportsbooks at a casino on the lake shore in Stateline, NV, there are advantages either way. However, we have probably already talked enough about the legal offshore sportsbooks, so it might finally be time to dig a little bit deeper into the land-based options that exist for the kind of sports betting California residents are after by going into the details as to what makes Nevada's Lake Tahoe sportsbooks so ideal for their intended purpose.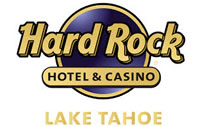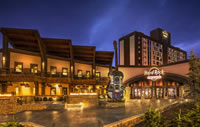 Hard Rock Hotel & Casino Lake Tahoe

Type:

commercial land based casino and hotel

Location:

Stateline, NV

Address:

50 Highway 50, Stateline, NV 89449

First Opened:

1965 (as Sahara Tahoe casino), 2015 (as Hard Rock Hotel & Casino Lake Tahoe after rebranding)

Number of Rooms:

539

Total Gaming Space:

25,000 square feet (includes 440 slot machines and video gambling terminals, 34 table games, high limit room, William Hill sportsbook located on premises)

Gaming Age:

21

Top Attractions:

Vinyl – intimate showroom and entertainment venue, Guitar Plaza – live entertainment Saturday night, outdoor concert venue

Best Restaurants:

Fuel – quick dining options, Alpine Union Bar & Kitchen – pub and casual dining, The Oyster Bar – fresh seafood bar, Park Prime – steakhouse, white table cloth fine dining experience, William Hill Sports Bar – also contains sportsbook

Owner:

Warner Hospitality (hotel and casino owners), NevaOne, LLC and Park Companies (landowners)

Phone Number:

(844) 588-7625
In an area famed for its famous casino and hotel destinations, it is hard to imagine a place that is better suited to function as both of those things than the Hard Rock Hotel & Casino Lake Tahoe. The world-famous Hard Rock brand hasn't always been set up in Lake Tahoe; however, as a fairly recent addition, the Sahara Tahoe casino and went through a series of rebranding endeavors over the years until arriving in its current form. One thing that you certainly can say about this gambling mecca is that it has always been popular as a local's favorite sportsbook in Lake Tahoe, as the added feature of being located on the South Shore of the lake itself meant that visitors were never far from a betting board when a big game was set to be played. One of the new features to the 2015 renovation that led to the casino becoming one of the newest Hard Rock chain locations was the addition of several new themed restaurants enabling guests to "dine like a rock star" or even just grab a quick bite before heading back onto the gambling floor or hitting the dance floor.
The Hard Rock Hotel & Casino Lake Tahoe is far more than a mere casino and resort, however, and in fact it does not rely on either of those factors to drive its hundreds of thousands of annual visitors, rather it has one of the nicest concert and entertainment venues in the state of Nevada and beyond, making it a major site along the way for national-caliber touring artists of all kinds. With something to do for everyone, including sports betting for California residents, it is easy to see why the Hard Rock is the perfect spot for one of the best Lake Tahoe sportsbooks.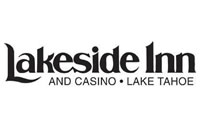 Lakeside Inn And Casino Lake Tahoe

Type:

commercial land based casino

Location:

Stateline, NV

Address:

168 Highway 50, Stateline, NV 89449

First Opened:

1946

Number of Rooms:

123

Total Gaming Space:

17,852 square feet (slot machines, blackjack, craps, roulette, poker, racebook, sportsbook)

Gaming Age:

21

Best Restaurants:

The Timbers – American cuisine, Latin Soul – Central and South American cuisine, Tavern – sports bar and restaurant, CasinoBar, The Timbers Bar

Owner:

The Lakeside Inn and Casino, Inc.
If you are looking for a change of pace, then you should check out the historic Lakeside Inn and Casino Lake Tahoe, which is frequently voted by those in the area as the best South Lake Tahoe casino property. While that last bit may be up for some level of debate (the competition in this part of the world is admittedly pretty steep), nobody can realistically deny that the Lakeside Inn and Casino certainly has the whole legacy angle locked down like no other gambling location on the lake, as its history stretches all the way back to 1946, making it beyond a doubt the oldest casino in the area. With less than 18,000 square feet and only a few hundred gaming tables and slot machines combined, the emphasis here is less on volume of gambling opportunities and more on the experience itself. To that end, the Lakeside Inn is often considered to have a decidedly "homey" feeling, with guests being treated to more of a personal touch that at the other huge mega-sized casinos that it shares the other side of Lake Tahoe with.
As for things to do at the Lakeside Inn that do not involve gambling at all, there are plenty of unique local Lake Tahoe community events on both the California and Nevada sides of the lake, with all manner of fun things to do from concerts to dinner and live entertainment to seasonal activities. Outdoor enthusiasts will find plenty to love about their stay in Lake Tahoe, and at the Lakeside Inn in particular, as it has partnered with purveyors of motorcycle rentals, fishing excursions, cross country skiing, golf tournaments, hiking trips and so on.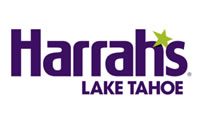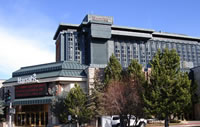 Harrah's Lake Tahoe Hotel And Casino

Type:

commercial land based casino

Location:

Stateline, NV

Address:

15 Highway 50, Stateline, NV 89449

First Opened:

1955

Number of Rooms:

525

Total Gaming Space:

65,000 square feet + mobile sports wagering anywhere in Nevada via MiOMNI partnership (1,300 slot machines and video poker machines, baccarat and mini baccarat, blackjack, craps, roulette, pai gow, high limit poker room access available, etc.)

Gaming Age:

21

Top Attractions:

Harrah's Lake Tahoe show and events – attracts big name national artists on schedule regularly, Tuesday Night Blues – live blue performances every Tuesday night, South Shore Room – indoor concert and entertainment venue, PEEK Nightclub, Cliché Lounge, Reflections Lake Tahoe – day spa, plenty of local shopping

Best Restaurants:

American River Café, Fatburger, Forest Buffet, Friday's Station Steak & Seafood Grill, Starbucks, Sushi Kai, Tahoe Italian Kitchen, Thai Asian

Owner:

Vici Properties, Inc.
In the grand scheme of the broader casino industry, those with Lake Tahoe sportsbooks like the Harrah's Lake Tahoe Hotel and Casino have a tremendous advantage over other, similar operators that have set up shop in other parts of Nevada or anywhere else. With the majestic natural vistas of the lake and surrounding mountains all around them, our top-rated sportsbooks in Lake Tahoe have half the battle of attracting new customers down just by virtue of being where they are. Then, you add in the extra details and really nail the execution in the way that Harrah's Lake Tahoe does, it is easy to see that you have got a winning bet on your hands. One of the large casinos in terms of sheer size on the South Shore of the lake, Harrah's Lake Tahoe also has the most slot machines and gaming stations – and some of the highest limits on card games – out of all its competitors, making it just as much a general vacation destination as one of the must-visit destinations for those players looking for the most hardcore of gambling experiences you can have on a visit to Lake Tahoe. At the same time, nobody in their right mind is going to miss hanging out at one of the many night club scenes at Harrah's Lake Tahoe – trust us, it gets pretty wild, but that's what you are here for, right?