How To Bet On The Super Bowl Online Like A High Roller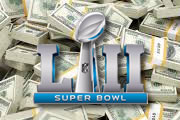 Simply put, there is no single sporting event that draws more attention from fans and casual bettors alike than the Super Bowl. As huge of a draw as the Super Bowl consistently is, the enthusiasm for the so-called "Big Game" among legitimate high rollers has ramped up to incredible levels in recent years.
Betting on the Super Bowl has always been huge, ever since the first time the edition of the game way back in 1967, but nowadays the annual handle on the so-called "Big Game" tops out well north of $4.5 billion year after year. However, most sports bettors don't risk more than a few hundred dollars at most when wagering on the Super Bowl, so it begs the question: "how does the handle get into the billions of dollars?" Naturally, high rollers – gamblers wagering large amounts – are taking advantage of the opportunities for massive limits afforded by legal online sportsbooks to drive the action on the Super Bowl into the stratosphere.
That being said, not every gambler with the funds to be classified as a real high roller knows the ins and outs of betting on the Super Bowl at a legal internet sportsbook site like Bovada, BetOnline, SportsBetting, 5Dimes or BetDSI. Never fear, would-be whale! We are here to give you the information you need regarding maximum deposits and betting limits so you can get started betting on the Super Bowl online like a real high roller.

At its most basic level, betting on the Super Bowl like a high roller comes down to understanding the deposit limits and maximum wagers allowed at the sportsbook at your choice. Usually, the deposit method used to bankroll your wagering account will play a role in the maximum amount you'll be able to deposit at any one time, though each of the leading sportsbook sites we'll discuss will have their own different maximums. The same principle is true with regard to actually placing a wager – depending on the sport, the various legal sports betting sites we recommend will place different limits on the highest amount of money they'll accept on a bet – though NFL games do enjoy the privilege of some of the highest limits.
First up, we'll take a look at the sportsbooks with the highest deposit limits. Bovada.lv, for instance, has different maximum deposit limits – consider this: the most you can deposit at one time if you use a credit card like VISA or Mastercard is $1,500, but that jumps up to $5,000 if you fund your wagering account with Bitcoin. There are of course plenty of deposit methods available at other sites, but it really will pay off for high rollers to shop around for the absolute limit, and that distinction does not rest with Bovada, but rather with the Antigua-based sportsbooks BetOnline and SportsBetting.
The only major difference between BetOnline and SportsBetting's acceptable deposit methods is that the former takes payments from American Express cardholders while the latter does not. However, the real draw for these sites, which are in many ways twins, is that a legit high roller can make a deposit of $25,000 using the cryptocurrency triumerverate (Bitcoin, Ethereum and Litecoin), and there is no limit whatsoever on a Bankwire transfer. If you look at things strictly from this perspective, you choice of online sportsbook to bet big – and hopefully win big – on the Super Bowl should be BetOnline or SportsBetting. Nevertheless, it's worth pointing out that all our recommended books have great customer service departments that will happily bump the limits on deposits if they can catch a whale in the process.
Moving on to placing your wager, SportsBetting pulls ahead of its sister site in terms of the absolute maximum bet the bookies will accept, even from high rollers. Though a normal NFL game is going to have a wager limit of no more than $5,000 on a bet against the spread or $1,500 on the moneyline or over/under for a single game, those limits get raised massively for the Big Game. SportsBetting will accept bets of up to $25,000 if you're betting against the spread, though the $5,000 max stays for moneyline and totals bets.
As good as SportsBetting's wager limits are, nobody can touch BetDSI's, which are probably certifiably insane. If you're a real high roller BetDSI has you covered, as the bookies at this European Union-based betting shop have $10,000 single bet limits on the total combined score and the moneyline in the Super Bowl, but a gargantuan $50,000 single wager limit if you like to do you betting against the spread. As a final aside, it should be pointed out that BetDSI also has pretty good deposit limits too: $50,000 on cryptocurrency like Bitcoin, Etherereum or Dash, as well as the same amount for checks through the mail, money order and Bankwire transfers.
Now that you know how to bet on the Super Bowl online like a high roller at California sports betting sites, all that's left to do is to prove you've got the kind of scratch (and the guts) to lay dollars down on the team you think you'll win. The sportsbooks love to see a whale on the horizon, so just be mindful of what YOUR limit is before you get in on the action. But we'd be willing to bet that you wouldn't have sought out our advice on how to do it if you weren't ready for this level of sports gambling.
Best California Sports Betting Sites - 100% Trusted + Safe
| | | | | |
| --- | --- | --- | --- | --- |
| | | 50% Up To $250 | VISA + Wire Transfer | |
| | | 50% Up To $1,000 | VISA, Bitcoin, Cash Wire | |
| | | 50% New Member Bonus! | VISA, Bitcoin | |
| | | 100% Up To $300 | VISA, Bitcoin | |
| | | 50% Up To $1,000 | Bitcoin, Wire Xfer, VISA | |